The Episcopal Church Welcomes All
REGULAR SERVICES ARE LIVE!
FOLLOWING CDC & DIOCESAN GUIDELINES FOR
MASKS & SOCIAL DISTANCING
Sunday LIVE MASSES:
8 a.m. & 10 a.m.
https://www.facebook.com/StStephensEpiscopalChurchNewPortRichey/
TICKETS NOW AT THE ST STEPHEN'S THRIFT STORE CALL: 727-846-1378
TICKETS MUST BE PURCHASED
SEPTEMBER'S TAKE OUT DINNER
UPCOMING DRIVE THRU TAKE OUT DINNER SATURDAY, OCTOBER 24
The Seventeenth Sunday after Pentecost
Year A
O God, who declarest thy almighty power chiefly in showing mercy and pity: Mercifully grant unto us such a measure of thy grace, that we, running to obtain thy promises, may be made partakers of thy heavenly treasure; through Jesus Christ our Lord, who liveth and reigneth with thee and the Holy Spirit, one God, for ever and ever. Amen.
Or
O God, you declare your almighty power chiefly in showing mercy and pity: Grant us the fullness of your grace, that we, running to obtain your promises, may become partakers of your heavenly treasure; through Jesus Christ our Lord, who lives and reigns with you and the Holy Spirit, one God, for ever and ever. Amen.
A Reading from Exodus (17:1-7)
All the congregation of the people of Israel moved on from the wilderness of Sin by stages, according to the commandment of the LORD, and camped at Reph'idim; but there was no water for the people to drink. Therefore the people found fault with Moses, and said, "Give us water to drink." And Moses said to them, "Why do you find fault with me? Why do you put the LORD to the proof?" But the people thirsted there for water, and the people murmured against Moses, and said, "Why did you bring us up out of Egypt, to kill us and our children and our cattle with thirst?" So Moses cried to the LORD, "What shall I do with this people? They are almost ready to stone me." And the LORD said to Moses, "Pass on before the people, taking with you some of the elders of Israel; and take in your hand the rod with which you struck the Nile, and go. Behold, I will stand before you there on the rock at Horeb; and you shall strike the rock, and water shall come out of it, that the people may drink." And Moses did so, in the sight of the elders of Israel. And he called the name of the place Massah and Mer'ibah, because of the faultfinding of the children of Israel, and because they put the LORD to the proof by saying, "Is the LORD among us or not?"
Psalm 78:1-4, 12-16
Attendite, popule
1 Hear my teaching, O my people; *
incline your ears to the words of my mouth.
2 I will open my mouth in a parable; *
I will declare the mysteries of ancient times.
3 That which we have heard and known,
and what our forefathers have told us, *
we will not hide from their children.
4 We will recount to generations to come
the praiseworthy deeds and the power of the Lord, *
and the wonderful works he has done.
12 He worked marvels in the sight of their forefathers, *
in the land of Egypt, in the field of Zoan.
13 He split open the sea and let them pass through; *
he made the waters stand up like walls.
14 He led them with a cloud by day, *
and all the night through with a glow of fire.
15 He split the hard rocks in the wilderness *
and gave them drink as from the great deep.
16 He brought streams out of the cliff, *
and the waters gushed out like rivers.
A Reading from Philippians (2:1-13)
So, if there is any encouragement in Christ, any incentive of love, any participation in the Spirit, any affection and sympathy, complete my joy by being of the same mind, having the same love, being in full accord and of one mind. Do nothing from selfishness or conceit, but in humility count others better than yourselves. Let each of you look not only to his own interests, but also to the interests of others. Have this mind among yourselves, which is yours in Christ Jesus, who, though he was in the form of God, did not count equality with God a thing to be grasped, but emptied himself, taking the form of a servant, being born in the likeness of men. And being found in human form he humbled himself and became obedient unto death, even death on a cross. Therefore, God has highly exalted him and bestowed on him the name which is above every name, that at the name of Jesus every knee should bow, in heaven and on earth and under the earth, and every tongue confess that Jesus Christ is Lord, to the glory of God the Father. Therefore, my beloved, as you have always obeyed, so now, not only as in my presence but much more in my absence, work out your own salvation with fear and trembling; for God is at work in you, both to will and to work for his good pleasure.
The Holy Gospel of our Lord Jesus Christ according to Matthew (21:23-32)
And when he entered the temple, the chief priests and the elders of the people came up to him as he was teaching, and said, "By what authority are you doing these things, and who gave you this authority?" Jesus answered them, "I also will ask you a question; and if you tell me the answer, then I also will tell you by what authority I do these things. The baptism of John, whence was it? From heaven or from men?" And they argued with one another, "If we say, `From heaven,' he will say to us, `Why then did you not believe him?' But if we say, `From men,' we are afraid of the multitude; for all hold that John was a prophet." So they answered Jesus, "We do not know." And he said to them, "Neither will I tell you by what authority I do these things. "What do you think? A man had two sons; and he went to the first and said, `Son, go and work in the vineyard today.' And he answered, `I will not'; but afterward he repented and went. And he went to the second and said the same; and he answered, `I go, sir,' but did not go. Which of the two did the will of his father?" They said, "The first." Jesus said to them, "Truly, I say to you, the tax collectors and the harlots go into the kingdom of God before you. For John came to you in the way of righteousness, and you did not believe him, but the tax collectors and the harlots believed him; and even when you saw it, you did not afterward repent and believe him.
Powerful & Active Christian Healing Prayer Ministry
Come See & Experience the Power of Healing Prayer
Talk with those who have experienced Healing
Join us Sundays & Thursdays at 10 a.m.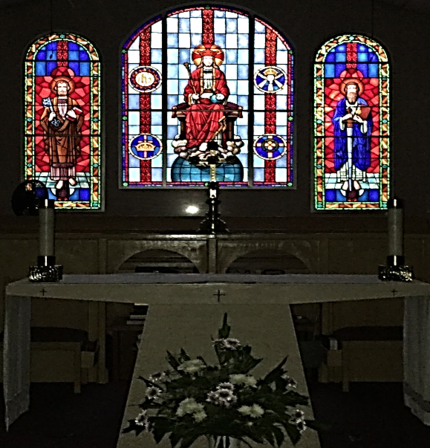 The Reverend Walcott W. Hunter, Rector
The Rev. Mercedes Marshall, Deacon
5326 Charles Street
New Port Richey, Florida 34652
ststephensnpr@gmail.com
Mission Statement
We are to incarnate the presence and work of
Jesus Christ in this place and in our community
OTHER SERVICE TIMES
9 -9:30 a.m. Tuesday - Friday
Holy Eucharist & Healing Service
10 a.m. Thursdays
Bible Study: Thursdays at 11:15 a.m.
Open to Everyone
Benediction of the Blessed Sacrament
First Friday of each month at 11 a.m.

Requiem Mass for Departed Loved Ones
11:00 a.m. last Friday of every month
____________________________________
Last Sunday of the month
following the 10 a.m. Service
Healing Meditative Prayer
WHAT IS HEALING
MEDITATIVE PRAYER?
While in silent prayer we come into Jesus' presence, we experience Jesus' compassion & healing.
It's resting in the healing rays of almighty God (Hab. 3:4) Healing happens when we pray
In silent meditative prayer, our prayers go deeper & reach the areas that need spiritual, emotional & physical healing. It can gradually
(at times, instantly based on God's will) heal
sickness & bring health.
It's relaxing in the Lord's Loving arms
This state of relaxation can rid us of
anxiety & stress & we can rely on
God's profound healing grace gradually transforming us into a life of grace.
You never know, unless God reveals it,
how much healing can happen!

As we pray, we are warmed with His love!

It is resting rather than striving.

It's the Holy Spirit's power that
produces miracles!
It involves appreciation as we thank
God for expected healing.
Through Meditative Prayer, blocks that we
unintentionally create are removed by the
Holy Spirit's power.
---
LENTEN SERVICES 2020
Join us in Lent
To Rekindle your Faith in a
Welcoming Church Environment!

Stations of the Cross & Evening Prayer
Followed by Souper Supper & Lenten Program
Wednesdays During Lent
(March 4, 11, 25 & April 1, 8)

During Lent at 5 p. m.
LENTEN PROGRAM:
EXPERIENCING GOD
"He gives me new Strength. He leads me on paths
that are right for the good of His name"
Psalm 23:3
March 4: God's Work; It's Not About You
March 11: God's Invitation; It's Very Personal
March 25: God Speaks; With Clarity & Purpose
April 1: God Initiates; You Get Involved
April 8: Making Room to Experience God
PRESENTERS:
Rev. Fa. Walcott Hunter &
Rev. Dn. Mercedes Marshall
---
Holy Week
Palm Sunday – April 14
8:00 a.m.
Holy Eucharist & Distribution of Palms
10:00 a.m.
Courtyard Blessing of the Palms
Procession into the Church
and Holy Eucharist
Maundy Thursday – April 18
11:00 a.m.
Benediction of the Blessed Sacrament
7:00 p.m.
The liturgy of Maundy Thursday
The Washing of Feet
Stripping of the Altar and
Vigil over the Blessed Sacrament
Good Friday – April 19
12:00 Noon
The Liturgy of Good Friday
Mass of the Pre-Sanctified Gifts
Easter Vigil – Saturday April 20
7:00 p.m.
Solemn High Mass
First Mass of Easter
Sunday April 21– Easter Day
8:00 a. m.
Easter Day Mass and Holy Eucharist
10 a.m.
Easter Day Mass
Followed by
Easter Egg Hunt for the Community