The Episcopal Church Welcomes All
(DON'T MISS MONTHLY DRIVE THRU DINNERS BELOW)
The Eighth Sunday after Pentecost
Year B
Morning Prayer
July 11, 2021
Psalm 89:20-37
Tunc locutus es
20 I have found David my servant; *
with my holy oil have I anointed him.
21 My hand will hold him fast *
and my arm will make him strong.
22 No enemy shall deceive him, *
nor any wicked man bring him down.
23 I will crush his foes before him *
and strike down those who hate him.
24 My faithfulness and love shall be with him, *
and he shall be victorious through my Name.
25 I shall make his dominion extend *
from the Great Sea to the River.
26 He will say to me, 'You are my Father, *
my God, and the rock of my salvation.'
27 I will make him my firstborn *
and higher than the kings of the earth.
28 I will keep my love for him forever, *
and my covenant will stand firm for him.
29 I will establish his line for ever *
and his throne as the days of heaven."
30 "If his children forsake my law *
and do not walk according to my judgments;
31 If they break my statutes *
and do not keep my commandments;
32 I will punish their transgressions with a rod *
and their iniquities with the lash;
33 But I will not take my love from him, *
nor let my faithfulness prove false.
34 I will not break my covenant, *
nor change what has gone out of my lips.
35 Once for all I have sworn by my holiness: *
'I will not lie to David.
36 His line shall endure for ever *
and his throne as the sun before me;
37 It shall stand fast for evermore like the moon, *
the abiding witness in the sky.' "
A Reading from the Second Book of Samuel (7:1-14a)
Now when the king dwelt in his house, and the LORD had given him rest from all his enemies round about, the king said to Nathan the prophet, "See now, I dwell in a house of cedar, but the ark of God dwells in a tent." And Nathan said to the king, "Go, do all that is in your heart; for the LORD is with you." But that same night the word of the LORD came to Nathan, "Go and tell my servant David, `Thus says the LORD: Would you build me a house to dwell in? I have not dwelt in a house since the day I brought up the people of Israel from Egypt to this day, but I have been moving about in a tent for my dwelling. In all places where I have moved with all the people of Israel, did I speak a word with any of the judges of Israel, whom I commanded to shepherd my people Israel, saying, "Why have you not built me a house of cedar?"' Now therefore thus you shall say to my servant David, `Thus says the LORD of hosts, I took you from the pasture, from following the sheep, that you should be prince over my people Israel; and I have been with you wherever you went, and have cut off all your enemies from before you; and I will make for you a great name, like the name of the great ones of the earth. And I will appoint a place for my people Israel, and will plant them, that they may dwell in their own place, and be disturbed no more; and violent men shall afflict them no more, as formerly, from the time that I appointed judges over my people Israel; and I will give you rest from all your enemies. Moreover, the LORD declares to you that the LORD will make you a house. When your days are fulfilled and you lie down with your fathers, I will raise up your offspring after you, who shall come forth from your body, and I will establish his kingdom. He shall build a house for my name, and I will establish the throne of his kingdom forever. I will be his father, and he shall be my son.
A Reading from the Gospel according to Mark
(6:30-34,53-56)
The apostles returned to Jesus, and told him all that they had done and taught. And he said to them, "Come away by yourselves to a lonely place, and rest a while." For many were coming and going, and they had no leisure even to eat. And they went away in the boat to a lonely place by themselves. Now many saw them going, and knew them, and they ran there on foot from all the towns, and got there ahead of them. As he went ashore he saw a great throng, and he had compassion on them, because they were like sheep without a shepherd; and he began to teach them many things. And when they had crossed over, they came to land at Gennes'aret, and moored to the shore. And when they got out of the boat, immediately the people recognized him, and ran about the whole neighborhood and began to bring sick people on their pallets to any place where they heard he was. And wherever he came, in villages, cities, or country, they laid the sick in the market places, and besought him that they might touch even the fringe of his garment; and as many as touched it were made well.
The Collect of the Day
Almighty God, the fountain of all wisdom, who knowest our necessities before we ask and our ignorance in asking: Have compassion, we beseech thee, upon our infirmities, and those things which for our unworthiness we dare not, and for our blindness we cannot ask, mercifully give us for the worthiness of thy Son Jesus Christ our Lord; who liveth and reigneth with thee and the Holy Spirit, one God, now and forever. Amen.
Or
Almighty God, the fountain of all wisdom, you know our necessities before we ask and our ignorance in asking: Have compassion on our weakness, and mercifully give us those things which for our unworthiness we dare not, and for our blindness we cannot ask; through the worthiness of your Son Jesus Christ our Lord, who lives and reigns with you and the Holy Spirit, one God, now and forever. Amen.
****************************************
DON'T MISS UPCOMING EVENT!!
THESE DINNERS HAVE BEEN A BIG HIT
WE WELCOME THE COMMUNITY
Pulled Pork Sandwiches
(Until Tuesday July 13th)
(MASTER CARD & VISA ACCEPTED)
YOU CAN PICK UP DINNER AT THE
DRIVE THRU
CALL RUTH AT 727-846-0464
AFTER SUNDAY 10 a.m. SERVICE
**********************************************************************************************************************
Powerful & Active Christian Healing Prayer Ministry
Come See & Experience the Power of Healing Prayer
Talk with those who have experienced Healing
Join us Sundays & Thursdays at 10 a.m.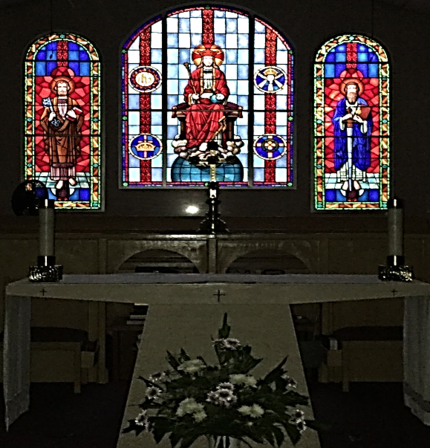 The Reverend Walcott W. Hunter, Rector
The Rev. Mercedes Marshall, Deacon
5326 Charles Street
New Port Richey, Florida 34652
ststephensnpr@gmail.com
Mission Statement
We are to incarnate the presence and work of
Jesus Christ in this place and in our community
I would like to offer you a RELAXATION EXERCISE (This will take a just a minute after I give the instructions)
You do not have to participate if you don't desire,
You can simply sit praying quietly, that's just as good, this is simply a relaxation exercise.
The Lord speaks to us but don't always know how to listen.
Hearing from the Lord most often comes to you as an idea or just one word that you often think it's just in your mind.
But when you ask a question of the Lord, he will answer in words or point you in the direction that is best for you.
I don't know about you, but at times I want to do it my way, like Frank Sinatra.
I invite you to pause your mind for a moment.
Close your eyes if you are comfortable or keep them open,
Don't think of anything else other than what Jesus has done for your lives,
If you prefer, very slowly repeat "Jesus" to yourselves,
Try to open yourselves to what the Spirit may be saying to you about Hospitality and listen,
Silently ask to whom are you being called to show hospitality and how.
OTHER SERVICE TIMES
9 -9:30 a.m. Tuesday - Friday
Holy Eucharist & Healing Service
10 a.m. Thursdays
Benediction of the Blessed Sacrament
First Friday of each month at 11 a.m.

Requiem Mass for Departed Loved Ones
11:00 a.m. last Friday of every month
*************************
RETURNING SOON
Bible Study: Thursdays at 11:15 a.m.
Open to Everyone
&
Last Sunday of the month
following the 10 a.m. Service
Healing Meditative Prayer
WHAT IS HEALING
MEDITATIVE PRAYER?
While in silent prayer we come into Jesus' presence, we experience Jesus' compassion & healing.
It's resting in the healing rays of almighty God (Hab. 3:4) Healing happens when we pray
In silent meditative prayer, our prayers go deeper & reach the areas that need spiritual, emotional & physical healing. It can gradually
(at times, instantly based on God's will) heal
sickness & bring health.
It's relaxing in the Lord's Loving arms
This state of relaxation can rid us of
anxiety & stress & we can rely on
God's profound healing grace gradually transforming us into a life of grace.
You never know, unless God reveals it,
how much healing can happen!

As we pray, we are warmed with His love!

It is resting rather than striving.

It's the Holy Spirit's power that
produces miracles!
It involves appreciation as we thank
God for expected healing.
Through Meditative Prayer, blocks that we
unintentionally create are removed by the
Holy Spirit's power.
---
LENTEN SERVICES 2020
Join us in Lent
To Rekindle your Faith in a
Welcoming Church Environment!

Stations of the Cross & Evening Prayer
Followed by Souper Supper & Lenten Program
Wednesdays During Lent
(March 4, 11, 25 & April 1, 8)

During Lent at 5 p. m.
LENTEN PROGRAM:
EXPERIENCING GOD
"He gives me new Strength. He leads me on paths
that are right for the good of His name"
Psalm 23:3
March 4: God's Work; It's Not About You
March 11: God's Invitation; It's Very Personal
March 25: God Speaks; With Clarity & Purpose
April 1: God Initiates; You Get Involved
April 8: Making Room to Experience God
PRESENTERS:
Rev. Fa. Walcott Hunter &
Rev. Dn. Mercedes Marshall
---
Holy Week
Palm Sunday – April 14
8:00 a.m.
Holy Eucharist & Distribution of Palms
10:00 a.m.
Courtyard Blessing of the Palms
Procession into the Church
and Holy Eucharist
Maundy Thursday – April 18
11:00 a.m.
Benediction of the Blessed Sacrament
7:00 p.m.
The liturgy of Maundy Thursday
The Washing of Feet
Stripping of the Altar and
Vigil over the Blessed Sacrament
Good Friday – April 19
12:00 Noon
The Liturgy of Good Friday
Mass of the Pre-Sanctified Gifts
Easter Vigil – Saturday April 20
7:00 p.m.
Solemn High Mass
First Mass of Easter
Sunday April 21– Easter Day
8:00 a. m.
Easter Day Mass and Holy Eucharist
10 a.m.
Easter Day Mass
Followed by
Easter Egg Hunt for the Community