The Episcopal Church Welcomes All
REGULAR SERVICES ARE LIVE!
FOLLOWING CDC & DIOCESAN GUIDELINES FOR
MASKS & SOCIAL DISTANCING
Sunday LIVE MASSES:
8 a.m. & 10 a.m.
https://www.facebook.com/StStephensEpiscopalChurchNewPortRichey/
TICKETS NOW AT THE ST STEPHEN'S THRIFT STORE CALL: 727-846-1378
TICKETS MUST BE PURCHASED
SEPTEMBER'S TAKE OUT DINNER WAS
SOLD OUT
HURRY AND PURCHASE YOUR
TICKETS FOR
UPCOMING DRIVE THRU TAKE OUT DINNER SATURDAY, OCTOBER 24
The Nineteenth Sunday after Pentecost
Year A
Lord, we pray thee that thy grace may always precede and follow us, and make us continually to be given to all good works; through Jesus Christ our Lord, who liveth and reigneth with thee and the Holy Spirit, one God, now and for ever. Amen.
Or
Lord, we pray that your grace may always precede and follow us, that we may continually be given to good works; through Jesus Christ our Lord, who lives and reigns with you and the Holy Spirit, one God, now and forever. Amen.
A Reading from Exodus (32:1-14)
When the people saw that Moses delayed to come down from the mountain, the people gathered themselves together to Aaron, and said to him, "Up, make us gods, who shall go before us; as for this Moses, the man who brought us up out of the land of Egypt, we do not know what has become of him." And Aaron said to them, "Take off the rings of gold which are in the ears of your wives, your sons, and your daughters, and bring them to me." So all the people took off the rings of gold which were in their ears, and brought them to Aaron. And he received the gold at their hand, and fashioned it with a graving tool, and made a molten calf; and they said, "These are your gods, O Israel, who brought you up out of the land of Egypt!" When Aaron saw this, he built an altar before it; and Aaron made proclamation and said, "Tomorrow shall be a feast to the LORD." And they rose up early on the morrow, and offered burnt offerings and brought peace offerings; and the people sat down to eat and drink, and rose up to play. And the LORD said to Moses, "Go down; for your people, whom you brought up out of the land of Egypt, have corrupted themselves; they have turned aside quickly out of the way which I commanded them; they have made for themselves a molten calf, and have worshiped it and sacrificed to it, and said, `These are your gods, O Israel, who brought you up out of the land of Egypt!'" And the LORD said to Moses, "I have seen this people, and behold, it is a stiff-necked people; now therefore let me alone, that my wrath may burn hot against them and I may consume them; but of you I will make a great nation." But Moses besought the LORD his God, and said, "O LORD, why does thy wrath burn hot against thy people, whom thou hast brought forth out of the land of Egypt with great power and with a mighty hand? Why should the Egyptians say, `With evil intent did he bring them forth, to slay them in the mountains, and to consume them from the face of the earth'? Turn from thy fierce wrath, and repent of this evil against thy people. Remember Abraham, Isaac, and Israel, thy servants, to whom thou didst swear by thine own self, and didst say to them, `I will multiply your descendants as the stars of heaven, and all this land that I have promised I will give to your descendants, and they shall inherit it for ever.'" And the LORD repented of the evil which he thought to do to his people.
Psalm 106:1-6, 19-23
Confitemini Domino, Et fecerunt vitulum
1 Hallelujah!
Give thanks to the Lord, for he is good, *
for his mercy endures forever.
2 Who can declare the mighty acts of the Lord *
or show forth all his praise?
3 Happy are those who act with justice *
and always do what is right!
4 Remember me, O Lord, with the favor you have for your people, *
and visit me with your saving help;
5 That I may see the prosperity of your elect
and be glad with the gladness of your people, *
that I may glory with your inheritance.
6 We have sinned as our forebears did; *
we have done wrong and dealt wickedly.
19 Israel made a bull-calf at Horeb *
and worshiped a molten image;
20 And so they exchanged their Glory *
for the image of an ox that feeds on grass.
21 They forgot God their Savior, *
who had done great things in Egypt,
22 Wonderful deeds in the land of Ham, *
and fearful things at the Red Sea.
23 So he would have destroyed them,
had not Moses his chosen stood before him in the breach, *
to turn away his wrath from consuming them.
A Reading from The Letter of Paul to the Philippians (4:1-9)
Therefore, my brethren, whom I love and long for, my joy and crown, stand firm thus in the Lord, my beloved. I entreat Eu-o'dia and I entreat Syn'tyche to agree in the Lord. And I ask you also, true yokefellow, help these women, for they have labored side by side with me in the gospel together with Clement and the rest of my fellow workers, whose names are in the book of life. Rejoice in the Lord always; again I will say, Rejoice. Let all men know your forbearance. The Lord is at hand. Have no anxiety about anything, but in everything by prayer and supplication with thanksgiving let your requests be made known to God. And the peace of God, which passes all understanding, will keep your hearts and your minds in Christ Jesus. Finally, brethren, whatever is true, whatever is honorable, whatever is just, whatever is pure, whatever is lovely, whatever is gracious, if there is any excellence, if there is anything worthy of praise, think about these things. What you have learned and received and heard and seen in me, do; and the God of peace will be with you.
The Holy Gospel of our Lord Jesus Christ according to Matthew (22:1-14)
And again, Jesus spoke to them in parables, saying, "The kingdom of heaven may be compared to a king who gave a marriage feast for his son, and sent his servants to call those who were invited to the marriage feast; but they would not come. Again, he sent other servants, saying, `Tell those who are invited, Behold, I have made ready my dinner, my oxen and my fat calves are killed, and everything is ready; come to the marriage feast.' But they made light of it and went off, one to his farm, another to his business, while the rest seized his servants, treated them shamefully, and killed them. The king was angry, and he sent his troops and destroyed those murderers and burned their city. Then he said to his servants, `The wedding is ready, but those invited were not worthy. Go therefore to the thoroughfares, and invite to the marriage feast as many as you find.' And those servants went out into the streets and gathered all whom they found, both bad and good; so, the wedding hall was filled with guests. "But when the king came in to look at the guests, he saw there a man who had no wedding garment; and he said to him, `Friend, how did you get in here without a wedding garment?' And he was speechless. Then the king said to the attendants, `Bind him hand and foot, and cast him into the outer darkness; there men will weep and gnash their teeth.' For many are called, but few are chosen."
Powerful & Active Christian Healing Prayer Ministry
Come See & Experience the Power of Healing Prayer
Talk with those who have experienced Healing
Join us Sundays & Thursdays at 10 a.m.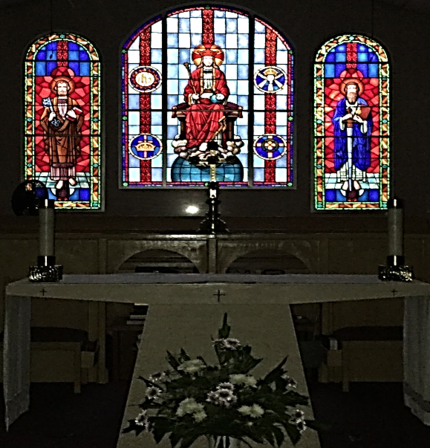 The Reverend Walcott W. Hunter, Rector
The Rev. Mercedes Marshall, Deacon
5326 Charles Street
New Port Richey, Florida 34652
ststephensnpr@gmail.com
Mission Statement
We are to incarnate the presence and work of
Jesus Christ in this place and in our community
OTHER SERVICE TIMES
9 -9:30 a.m. Tuesday - Friday
Holy Eucharist & Healing Service
10 a.m. Thursdays
Bible Study: Thursdays at 11:15 a.m.
Open to Everyone
Benediction of the Blessed Sacrament
First Friday of each month at 11 a.m.

Requiem Mass for Departed Loved Ones
11:00 a.m. last Friday of every month
____________________________________
Last Sunday of the month
following the 10 a.m. Service
Healing Meditative Prayer
WHAT IS HEALING
MEDITATIVE PRAYER?
While in silent prayer we come into Jesus' presence, we experience Jesus' compassion & healing.
It's resting in the healing rays of almighty God (Hab. 3:4) Healing happens when we pray
In silent meditative prayer, our prayers go deeper & reach the areas that need spiritual, emotional & physical healing. It can gradually
(at times, instantly based on God's will) heal
sickness & bring health.
It's relaxing in the Lord's Loving arms
This state of relaxation can rid us of
anxiety & stress & we can rely on
God's profound healing grace gradually transforming us into a life of grace.
You never know, unless God reveals it,
how much healing can happen!

As we pray, we are warmed with His love!

It is resting rather than striving.

It's the Holy Spirit's power that
produces miracles!
It involves appreciation as we thank
God for expected healing.
Through Meditative Prayer, blocks that we
unintentionally create are removed by the
Holy Spirit's power.
---
LENTEN SERVICES 2020
Join us in Lent
To Rekindle your Faith in a
Welcoming Church Environment!

Stations of the Cross & Evening Prayer
Followed by Souper Supper & Lenten Program
Wednesdays During Lent
(March 4, 11, 25 & April 1, 8)

During Lent at 5 p. m.
LENTEN PROGRAM:
EXPERIENCING GOD
"He gives me new Strength. He leads me on paths
that are right for the good of His name"
Psalm 23:3
March 4: God's Work; It's Not About You
March 11: God's Invitation; It's Very Personal
March 25: God Speaks; With Clarity & Purpose
April 1: God Initiates; You Get Involved
April 8: Making Room to Experience God
PRESENTERS:
Rev. Fa. Walcott Hunter &
Rev. Dn. Mercedes Marshall
---
Holy Week
Palm Sunday – April 14
8:00 a.m.
Holy Eucharist & Distribution of Palms
10:00 a.m.
Courtyard Blessing of the Palms
Procession into the Church
and Holy Eucharist
Maundy Thursday – April 18
11:00 a.m.
Benediction of the Blessed Sacrament
7:00 p.m.
The liturgy of Maundy Thursday
The Washing of Feet
Stripping of the Altar and
Vigil over the Blessed Sacrament
Good Friday – April 19
12:00 Noon
The Liturgy of Good Friday
Mass of the Pre-Sanctified Gifts
Easter Vigil – Saturday April 20
7:00 p.m.
Solemn High Mass
First Mass of Easter
Sunday April 21– Easter Day
8:00 a. m.
Easter Day Mass and Holy Eucharist
10 a.m.
Easter Day Mass
Followed by
Easter Egg Hunt for the Community