The Episcopal Church Welcomes All
REGULAR SERVICES ARE LIVE!
FOLLOWING CDC & DIOCESAN GUIDELINES FOR
MASKS & SOCIAL DISTANCING
Sunday LIVE MASSES:
8 a.m. & 10 a.m.
https://www.facebook.com/StStephensEpiscopalChurchNewPortRichey/
St. Stephen's Holiday
Silent Auction
Don't Risk Covid-19!
Enjoy holiday shopping safely at home!

Join in the Exciting Fun
&
Shop for Christmas or
for yourself
All you have to do is follow the steps below:
*** Click on this website: www.32auctions.com/Holidayauction2020499.
*** Then click on "All Items"
*** That is IT!!!
You can enjoy Browsing OR Browse & Bid
Support St. Stephen Church in their efforts to feed the poor, the hungry, the homeless & providing Christmas gifts for needy children
You will have 3 weeks to shop and the highest bidder gets the prize!!
November 27 (noon) to December 18 (noon)
*********************************************************************************************************************************
Advent 1
Year B
Almighty God, give us grace that we may cast away the works of darkness, and put upon us the armor of light, now in the time of this mortal life in which thy Son Jesus Christ came to visit us in great humility; that in the last day, when he shall come again in his glorious majesty to judge both the quick and the dead, we may rise to the life immortal; through him who liveth and reigneth with thee and the Holy Ghost, one God, now and forever. Amen.
Or
Almighty God, give us grace to cast away the works of darkness, and put on the armor of light, now in the time of this mortal life in which your Son Jesus Christ came to visit us in great humility; that in the last day, when he shall come again in his glorious majesty to judge both the living and the dead, we may rise to the life immortal; through him who lives and reigns with you and the Holy Spirit, one God, now and forever. Amen.
A Reading from Isaiah (64:1-9)
O that thou wouldst rend the heavens and come down, that the mountains might quake at thy presence -- as when fire kindles brushwood and the fire causes water to boil --
to make thy name known to thy adversaries, and that the nations might tremble at thy presence! When thou didst terrible things which we looked not for, thou camest down, the mountains quaked at thy presence. From of old no one has heard or perceived by the ear, no eye has seen a God besides thee, who works for those who wait for him. Thou meetest him that joyfully works righteousness, those that remember thee in thy ways. Behold, thou wast angry, and we sinned; in our sins we have been a long time, and shall we be saved? We have all become like one who is unclean, and all our righteous deeds are like a polluted garment. We all fade like a leaf, and our iniquities, like the wind, take us away. There is no one that calls upon thy name, that bestirs himself to take hold of thee; for thou hast hid thy face from us, and hast delivered us into the hand of our iniquities. Yet, O LORD, thou art our Father; we are the clay, and thou art our potter; we are all the work of thy hand. Be not exceedingly angry, O LORD, and remember not iniquity for ever. Behold, consider, we are all thy people.
Psalm 80:1-7, 16-18
Qui regis Israel
1 Hear, O Shepherd of Israel, leading Joseph like a flock; *
shine forth, you that are enthroned upon the cherubim.
2 In the presence of Ephraim, Benjamin, and Manasseh, *
stir up your strength and come to help us.
3 Restore us,
show the light of your countenance, and we shall be saved.
how long will you be angered
despite the prayers of your people?
5 You have fed them with the bread of tears; *
you have given them bowls of tears to drink.
6 You have made us the derision of our neighbors, *
and our enemies laugh us to scorn.
7 Restore us, O God of hosts; *
show the light of your countenance, and we shall be saved.
16 Let your hand be upon the man of your right hand, *
the son of man you have made so strong for yourself.
17 And so will we never turn away from you; *
give us life, that we may call upon your Name.
18 Restore us, O Lord God of hosts; *
show the light of your countenance, and we shall be saved.
A Reading from the First Letter of Paul to the Corinthians (1:3-9)
Grace to you and peace from God our Father and the Lord Jesus Christ. I give thanks to God always for you because of the grace of God which was given you in Christ Jesus, that in every way you were enriched in him with all speech and all knowledge - even as the testimony to Christ was confirmed among you -- so that you are not lacking in any spiritual gift, as you wait for the revealing of our Lord Jesus Christ; who will sustain you to the end, guiltless in the day of our Lord Jesus Christ. God is faithful, by whom you were called into the fellowship of his Son, Jesus Christ our Lord.
The Holy Gospel of our Lord Jesus Christ according to Mark (13:24-37)
"But in those days, after that tribulation, the sun will be darkened, and the moon will not give its light, and the stars will be falling from heaven, and the powers in the heavens will be shaken. And then they will see the Son of man coming in clouds with great power and glory. And then he will send out the angels, and gather his elect from the four winds, from the ends of the earth to the ends of heaven. "From the fig tree learn its lesson: as soon as its branch becomes tender and puts forth its leaves, you know that summer is near. So also, when you see these things taking place, you know that he is near, at the very gates. Truly, I say to you, this generation will not pass away before all these things take place. Heaven and earth will pass away, but my words will not pass away. "But of that day or that hour no one knows, not even the angels in heaven, nor the Son, but only the Father. Take heed, watch; for you do not know when the time will come. It is like a man going on a journey, when he leaves home and puts his servants in charge, each with his work, and commands the doorkeeper to be on the watch. Watch therefore, for you do not know when the master of the house will come, in the evening, or at midnight, or at cockcrow, or in the morning -- lest he come suddenly and find you asleep. And what I say to you I say to all: Watch."
Powerful & Active Christian Healing Prayer Ministry
Come See & Experience the Power of Healing Prayer
Talk with those who have experienced Healing
Join us Sundays & Thursdays at 10 a.m.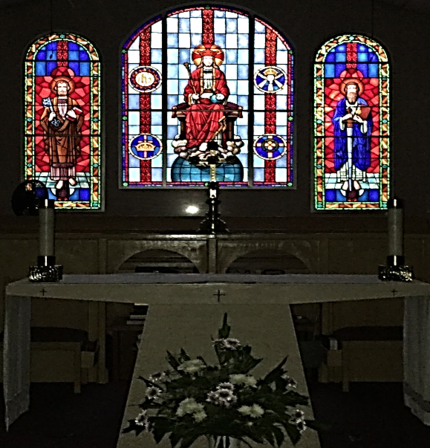 The Reverend Walcott W. Hunter, Rector
The Rev. Mercedes Marshall, Deacon
5326 Charles Street
New Port Richey, Florida 34652
ststephensnpr@gmail.com
Mission Statement
We are to incarnate the presence and work of
Jesus Christ in this place and in our community
OTHER SERVICE TIMES
9 -9:30 a.m. Tuesday - Friday
Holy Eucharist & Healing Service
10 a.m. Thursdays
Bible Study: Thursdays at 11:15 a.m.
Open to Everyone
Benediction of the Blessed Sacrament
First Friday of each month at 11 a.m.

Requiem Mass for Departed Loved Ones
11:00 a.m. last Friday of every month
____________________________________
Last Sunday of the month
following the 10 a.m. Service
Healing Meditative Prayer
WHAT IS HEALING
MEDITATIVE PRAYER?
While in silent prayer we come into Jesus' presence, we experience Jesus' compassion & healing.
It's resting in the healing rays of almighty God (Hab. 3:4) Healing happens when we pray
In silent meditative prayer, our prayers go deeper & reach the areas that need spiritual, emotional & physical healing. It can gradually
(at times, instantly based on God's will) heal
sickness & bring health.
It's relaxing in the Lord's Loving arms
This state of relaxation can rid us of
anxiety & stress & we can rely on
God's profound healing grace gradually transforming us into a life of grace.
You never know, unless God reveals it,
how much healing can happen!

As we pray, we are warmed with His love!

It is resting rather than striving.

It's the Holy Spirit's power that
produces miracles!
It involves appreciation as we thank
God for expected healing.
Through Meditative Prayer, blocks that we
unintentionally create are removed by the
Holy Spirit's power.
---
LENTEN SERVICES 2020
Join us in Lent
To Rekindle your Faith in a
Welcoming Church Environment!

Stations of the Cross & Evening Prayer
Followed by Souper Supper & Lenten Program
Wednesdays During Lent
(March 4, 11, 25 & April 1, 8)

During Lent at 5 p. m.
LENTEN PROGRAM:
EXPERIENCING GOD
"He gives me new Strength. He leads me on paths
that are right for the good of His name"
Psalm 23:3
March 4: God's Work; It's Not About You
March 11: God's Invitation; It's Very Personal
March 25: God Speaks; With Clarity & Purpose
April 1: God Initiates; You Get Involved
April 8: Making Room to Experience God
PRESENTERS:
Rev. Fa. Walcott Hunter &
Rev. Dn. Mercedes Marshall
---
Holy Week
Palm Sunday – April 14
8:00 a.m.
Holy Eucharist & Distribution of Palms
10:00 a.m.
Courtyard Blessing of the Palms
Procession into the Church
and Holy Eucharist
Maundy Thursday – April 18
11:00 a.m.
Benediction of the Blessed Sacrament
7:00 p.m.
The liturgy of Maundy Thursday
The Washing of Feet
Stripping of the Altar and
Vigil over the Blessed Sacrament
Good Friday – April 19
12:00 Noon
The Liturgy of Good Friday
Mass of the Pre-Sanctified Gifts
Easter Vigil – Saturday April 20
7:00 p.m.
Solemn High Mass
First Mass of Easter
Sunday April 21– Easter Day
8:00 a. m.
Easter Day Mass and Holy Eucharist
10 a.m.
Easter Day Mass
Followed by
Easter Egg Hunt for the Community