The Episcopal Church Welcomes All
(DON'T MISS MONTHLY DRIVE THRU DINNERS BELOW)
THE LORD IS RISEN INDEED!!!
The Fourth Sunday after Pentecost
Year B
June 20, 2021
O Lord, we beseech thee, make us to have a perpetual fear and love of thy holy Name, for thou never failest to help and govern those whom thou hast set upon the sure foundation of thy loving‑kindness; through Jesus Christ our Lord, who liveth and reigneth with thee and the Holy Spirit, one God, for ever and ever. Amen.
Or
O Lord, make us have perpetual love and reverence for your holy Name, for you never fail to help and govern those whom you have set upon the sure foundation of your loving‑kindness; through Jesus Christ our Lord, who lives and reigns with you and the Holy Spirit, one God, for ever and ever. Amen.
A Reading from the First Book of Samuel (17:1-11,19-23,32-49)
Now the Philistines gathered their armies for battle; and they were gathered at Socoh, which belongs to Judah, and encamped between Socoh and Aze'kah, in E'phes-dam'mim. And Saul and the men of Israel were gathered, and encamped in the valley of Elah, and drew up in line of battle against the Philistines. And the Philistines stood on the mountain on the one side, and Israel stood on the mountain on the other side, with a valley between them. And there came out from the camp of the Philistines a champion named Goliath, of Gath, whose height was six cubits and a span. He had a helmet of bronze on his head, and he was armed with a coat of mail, and the weight of the coat was five thousand shekels of bronze. And he had greaves of bronze upon his legs, and a javelin of bronze slung between his shoulders. And the shaft of his spear was like a weaver's beam, and his spear's head weighed six hundred shekels of iron; and his shield-bearer went before him. He stood and shouted to the ranks of Israel, "Why have you come out to draw up for battle? Am I not a Philistine, and are you not servants of Saul? Choose a man for yourselves, and let him come down to me. If he is able to fight with me and kill me, then we will be your servants; but if I prevail against him and kill him, then you shall be our servants and serve us." And the Philistine said, "I defy the ranks of Israel this day; give me a man, that we may fight together." When Saul and all Israel heard these words of the Philistine, they were dismayed and greatly afraid. Now Saul, and they, and all the men of Israel, were in the valley of Elah, fighting with the Philistines. And David rose early in the morning, and left the sheep with a keeper, and took the provisions, and went, as Jesse had commanded him; and he came to the encampment as the host was going forth to the battle line, shouting the war cry. And Israel and the Philistines drew up for battle, army against army. And David left the things in charge of the keeper of the baggage, and ran to the ranks, and went and greeted his brothers. As he talked with them, behold, the champion, the Philistine of Gath, Goliath by name, came up out of the ranks of the Philistines, and spoke the same words as before. And David heard him. And David said to Saul, "Let no man's heart fail because of him; your servant will go and fight with this Philistine." And Saul said to David, "You are not able to go against this Philistine to fight with him; for you are but a youth, and he has been a man of war from his youth." But David said to Saul, "Your servant used to keep sheep for his father; and when there came a lion, or a bear, and took a lamb from the flock, I went after him and smote him and delivered it out of his mouth; and if he arose against me, I caught him by his beard, and smote him and killed him. Your servant has killed both lions and bears; and this uncircumcised Philistine shall be like one of them, seeing he has defied the armies of the living God." And David said, "The LORD who delivered me from the paw of the lion and from the paw of the bear, will deliver me from the hand of this Philistine." And Saul said to David, "Go, and the LORD be with you!" Then Saul clothed David with his armor; he put a helmet of bronze on his head, and clothed him with a coat of mail. And David girded his sword over his armor, and he tried in vain to go, for he was not used to them. Then David said to Saul, "I cannot go with these; for I am not used to them." And David put them off. Then he took his staff in his hand, and chose five smooth stones from the brook, and put them in his shepherd's bag or wallet; his sling was in his hand, and he drew near to the Philistine. And the Philistine came on and drew near to David, with his shield-bearer in front of him. And when the Philistine looked, and saw David, he disdained him; for he was but a youth, ruddy and comely in appearance. And the Philistine said to David, "Am I a dog, that you come to me with sticks?" And the Philistine cursed David by his gods. The Philistine said to David, "Come to me, and I will give your flesh to the birds of the air and to the beasts of the field." Then David said to the Philistine, "You come to me with a sword and with a spear and with a javelin; but I come to you in the name of the LORD of hosts, the God of the armies of Israel, whom you have defied. This day the LORD will deliver you into my hand, and I will strike you down, and cut off your head; and I will give the dead bodies of the host of the Philistines this day to the birds of the air and to the wild beasts of the earth; that all the earth may know that there is a God in Israel, and that all this assembly may know that the LORD saves not with sword and spear; for the battle is the LORD'S and he will give you into our hand." When the Philistine arose and came and drew near to meet David, David ran quickly toward the battle line to meet the Philistine. And David put his hand in his bag and took out a stone, and slung it, and struck the Philistine on his forehead; the stone sank into his forehead, and he fell on his face to the ground.
Psalm 9:9-20
Confitebor tibi
9 The Lord will be a refuge for the oppressed, *
a refuge in time of trouble.
10 Those who know your Name will put their trust in you, *
for you never forsake those who seek you, O Lord.
11 Sing praise to the Lord who dwells in Zion; *
proclaim to the peoples the things he has done.
12 The Avenger of blood will remember them; *
he will not forget the cry of the afflicted.
13 Have pity on me, O Lord; *
see the misery I suffer from those who hate me,
O you who lift me up from the gate of death;
14 So that I may tell of all your praises
and rejoice in your salvation *
in the gates of the city of Zion.
15 The ungodly have fallen into the pit they dug, *
and in the snare they set is their own foot caught.
16 The Lord is known by his acts of justice; *
the wicked are trapped in the works of their own hands.
17 The wicked shall be given over to the grave, *
and also all the peoples that forget God.
18 For the needy shall not always be forgotten, *
and the hope of the poor shall not perish forever.
19 Rise up, O Lord, let not the ungodly have the upper hand; *
let them be judged before you.
20 Put fear upon them, O Lord; *
let the ungodly know they are but mortal.
A Reading from the Second Letter of Paul to the Corinthians (6:1-13)
Working together with him, then, we entreat you not to accept the grace of God in vain. For he says, "At the acceptable time I have listened to you, and helped you on the day of salvation." Behold, now is the acceptable time; behold, now is the day of salvation. We put no obstacle in any one's way, so that no fault may be found with our ministry, but as servants of God we commend ourselves in every way: through great endurance, in afflictions, hardships, calamities, beatings, imprisonments, tumults, labors, watching, hunger; by purity, knowledge, forbearance, kindness, the Holy Spirit, genuine love, truthful speech, and the power of God; with the weapons of righteousness for the right hand and for the left; in honor and dishonor, in ill repute and good repute. We are treated as impostors, and yet are true; as unknown, and yet well known; as dying, and behold we live; as punished, and yet not killed; as sorrowful, yet always rejoicing; as poor, yet making many rich; as having nothing, and yet possessing everything. Our mouth is open to you, Corinthians; our heart is wide. You are not restricted by us, but you are restricted in your own affections. In return -- I speak as to children -- widen your hearts also.
The Holy Gospel of our Lord Jesus Christ according to Mark
(4:35-41)
On that day, when evening had come, he said to them, "Let us go across to the other side." And leaving the crowd, they took him with them in the boat, just as he was. And other boats were with him. And a great storm of wind arose, and the waves beat into the boat, so that the boat was already filling. But he was in the stern, asleep on the cushion; and they woke him and said to him, "Teacher, do you not care if we perish?" And he awoke and rebuked the wind, and said to the sea, "Peace! Be still!" And the wind ceased, and there was a great calm. He said to them, "Why are you afraid? Have you no faith?" And they were filled with awe, and said to one another, "Who then is this, that even wind and sea obey him?"
****************************************
DON'T MISS UPCOMING EVENT!!
THESE DINNERS HAVE BEEN A BIG HIT
WE WELCOME THE COMMUNITY
(MASTER CARD & VISA ACCEPTED)
YOU CAN PICK UP DINNER AT THE
DRIVE THRU
AFTER SUNDAY 10 a.m. SERVICE
**********************************************************************************************************************
Powerful & Active Christian Healing Prayer Ministry
Come See & Experience the Power of Healing Prayer
Talk with those who have experienced Healing
Join us Sundays & Thursdays at 10 a.m.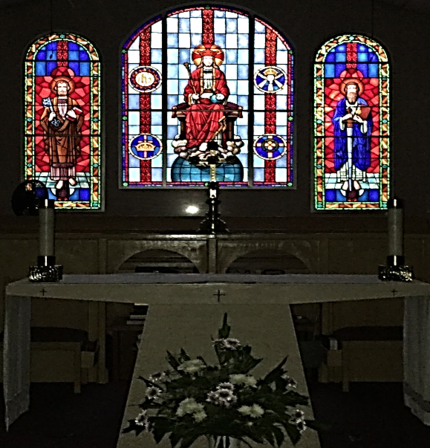 The Reverend Walcott W. Hunter, Rector
The Rev. Mercedes Marshall, Deacon
5326 Charles Street
New Port Richey, Florida 34652
ststephensnpr@gmail.com
Mission Statement
We are to incarnate the presence and work of
Jesus Christ in this place and in our community
OTHER SERVICE TIMES
9 -9:30 a.m. Tuesday - Friday
Holy Eucharist & Healing Service
10 a.m. Thursdays
Benediction of the Blessed Sacrament
First Friday of each month at 11 a.m.

Requiem Mass for Departed Loved Ones
11:00 a.m. last Friday of every month
*************************
RETURNING SOON
Bible Study: Thursdays at 11:15 a.m.
Open to Everyone
&
Last Sunday of the month
following the 10 a.m. Service
Healing Meditative Prayer
WHAT IS HEALING
MEDITATIVE PRAYER?
While in silent prayer we come into Jesus' presence, we experience Jesus' compassion & healing.
It's resting in the healing rays of almighty God (Hab. 3:4) Healing happens when we pray
In silent meditative prayer, our prayers go deeper & reach the areas that need spiritual, emotional & physical healing. It can gradually
(at times, instantly based on God's will) heal
sickness & bring health.
It's relaxing in the Lord's Loving arms
This state of relaxation can rid us of
anxiety & stress & we can rely on
God's profound healing grace gradually transforming us into a life of grace.
You never know, unless God reveals it,
how much healing can happen!

As we pray, we are warmed with His love!

It is resting rather than striving.

It's the Holy Spirit's power that
produces miracles!
It involves appreciation as we thank
God for expected healing.
Through Meditative Prayer, blocks that we
unintentionally create are removed by the
Holy Spirit's power.
---
LENTEN SERVICES 2020
Join us in Lent
To Rekindle your Faith in a
Welcoming Church Environment!

Stations of the Cross & Evening Prayer
Followed by Souper Supper & Lenten Program
Wednesdays During Lent
(March 4, 11, 25 & April 1, 8)

During Lent at 5 p. m.
LENTEN PROGRAM:
EXPERIENCING GOD
"He gives me new Strength. He leads me on paths
that are right for the good of His name"
Psalm 23:3
March 4: God's Work; It's Not About You
March 11: God's Invitation; It's Very Personal
March 25: God Speaks; With Clarity & Purpose
April 1: God Initiates; You Get Involved
April 8: Making Room to Experience God
PRESENTERS:
Rev. Fa. Walcott Hunter &
Rev. Dn. Mercedes Marshall
---
Holy Week
Palm Sunday – April 14
8:00 a.m.
Holy Eucharist & Distribution of Palms
10:00 a.m.
Courtyard Blessing of the Palms
Procession into the Church
and Holy Eucharist
Maundy Thursday – April 18
11:00 a.m.
Benediction of the Blessed Sacrament
7:00 p.m.
The liturgy of Maundy Thursday
The Washing of Feet
Stripping of the Altar and
Vigil over the Blessed Sacrament
Good Friday – April 19
12:00 Noon
The Liturgy of Good Friday
Mass of the Pre-Sanctified Gifts
Easter Vigil – Saturday April 20
7:00 p.m.
Solemn High Mass
First Mass of Easter
Sunday April 21– Easter Day
8:00 a. m.
Easter Day Mass and Holy Eucharist
10 a.m.
Easter Day Mass
Followed by
Easter Egg Hunt for the Community