The Episcopal Church Welcomes All
(DON'T MISS MONTHLY DRIVE THRU DINNERS BELOW)
THE LORD IS RISEN INDEED!!!
The Seventh Sunday of Easter
May 16, 2021
O God, the King of glory, who hast exalted thine only Son Jesus Christ with great triumph unto thy kingdom in heaven: We beseech thee, leave us not comfortless, but send to us thine Holy Ghost to comfort us, and exalt us unto the same place whither our Savior Christ is gone before; who liveth and reigneth with thee and the same Holy Ghost, one God, world without end. Amen.
Or
O God, the King of glory, you have exalted your only Son Jesus Christ with great triumph to your kingdom in heaven: Do not leave us comfortless, but send us your Holy Spirit to strengthen us, and exalt us to that place where our Savior Christ has gone before; who lives and reigns with you and the Holy Spirit, one God, in glory everlasting. Amen.
A Reading from the Acts of the Apostles (1:15-17,21-26)
In those days Peter stood up among the brethren (the company of persons was in all about a hundred and twenty), and said, "Brethren, the scripture had to be fulfilled, which the Holy Spirit spoke beforehand by the mouth of David, concerning Judas who was guide to those who arrested Jesus. For he was numbered among us, and was allotted his share in this ministry. So one of the men who have accompanied us during all the time that the Lord Jesus went in and out among us, beginning from the baptism of John until the day when he was taken up from us -- one of these men must become with us a witness to his resurrection." And they put forward two, Joseph called Barsab'bas, who was surnamed Justus, and Matthi'as. And they prayed and said, "Lord, who knowest the hearts of all men, show which one of these two thou hast chosen to take the place in this ministry and apostleship from which Judas turned aside, to go to his own place." And they cast lots for them, and the lot fell on Matthi'as; and he was enrolled with the eleven apostles.
Psalm 1
Beatus vir qui non abiit
1 Happy are they who have not walked in the counsel of the wicked, *
nor lingered in the way of sinners,
nor sat in the seats of the scornful!
2 Their delight is in the law of the Lord, *
and they meditate on his law day and night.
3 They are like trees planted by streams of water,
bearing fruit in due season, with leaves that do not wither; *
everything they do shall prosper.
4 It is not so with the wicked; *
they are like chaff which the wind blows away.
5 Therefore the wicked shall not stand upright when judgment comes, *
nor the sinner in the council of the righteous.
6 For the Lord knows the way of the righteous, *
but the way of the wicked is doomed.
A Reading from the First Letter of John (5:9-13)
If we receive the testimony of men, the testimony of God is greater; for this is the testimony of God that he has borne witness to his Son. He who believes in the Son of God has the testimony in himself. He who does not believe God has made him a liar, because he has not believed in the testimony that God has borne to his Son. And this is the testimony, that God gave us eternal life, and this life is in his Son. He who has the Son has life; he who has not the Son of God has not life. I write this to you who believe in the name of the Son of God, that you may know that you have eternal life.
The Holy Gospel of our Lord Jesus Christ according to John (17:6-19)
"I have manifested thy name to the men whom thou gavest me out of the world; thine they were, and thou gavest them to me, and they have kept thy word. Now they know that everything that thou hast given me is from thee; for I have given them the words which thou gavest me, and they have received them and know in truth that I came from thee; and they have believed that thou didst send me. I am praying for them; I am not praying for the world but for those whom thou hast given me, for they are thine; all mine are thine, and thine are mine, and I am glorified in them. And now I am no more in the world, but they are in the world, and I am coming to thee. Holy Father, keep them in thy name, which thou hast given me, that they may be one, even as we are one. While I was with them, I kept them in thy name, which thou hast given me; I have guarded them, and none of them is lost but the son of perdition, that the scripture might be fulfilled. But now I am coming to thee; and these things I speak in the world, that they may have my joy fulfilled in themselves. I have given them thy word; and the world has hated them because they are not of the world, even as I am not of the world. I do not pray that thou shouldst take them out of the world, but that thou shouldst keep them from the evil one. They are not of the world, even as I am not of the world. Sanctify them in the truth; thy word is truth. As thou didst send me into the world, so I have sent them into the world. And for their sake I consecrate myself, that they also may be consecrated in truth.
****************************************
DON'T MISS UPCOMING EVENT!!
THESE DINNERS HAVE BEEN A BIG HIT
WE WELCOME THE COMMUNITY
BAR-B-QUE CHICKEN
MAC & CHEESE
BROCCOLI SLAW
BROWNIE
(MASTER CARD & VISA ACCEPTED)
YOU CAN PICK UP DINNER AT THE
DRIVE THRU
AFTER SUNDAY 10 a.m. SERVICE
**********************************************************************************************************************
Powerful & Active Christian Healing Prayer Ministry
Come See & Experience the Power of Healing Prayer
Talk with those who have experienced Healing
Join us Sundays & Thursdays at 10 a.m.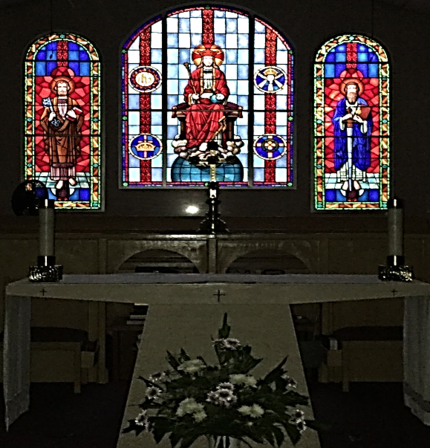 The Reverend Walcott W. Hunter, Rector
The Rev. Mercedes Marshall, Deacon
5326 Charles Street
New Port Richey, Florida 34652
ststephensnpr@gmail.com
Mission Statement
We are to incarnate the presence and work of
Jesus Christ in this place and in our community
OTHER SERVICE TIMES
9 -9:30 a.m. Tuesday - Friday
Holy Eucharist & Healing Service
10 a.m. Thursdays
Benediction of the Blessed Sacrament
First Friday of each month at 11 a.m.

Requiem Mass for Departed Loved Ones
11:00 a.m. last Friday of every month
*************************
RETURNING SOON
Bible Study: Thursdays at 11:15 a.m.
Open to Everyone
&
Last Sunday of the month
following the 10 a.m. Service
Healing Meditative Prayer
WHAT IS HEALING
MEDITATIVE PRAYER?
While in silent prayer we come into Jesus' presence, we experience Jesus' compassion & healing.
It's resting in the healing rays of almighty God (Hab. 3:4) Healing happens when we pray
In silent meditative prayer, our prayers go deeper & reach the areas that need spiritual, emotional & physical healing. It can gradually
(at times, instantly based on God's will) heal
sickness & bring health.
It's relaxing in the Lord's Loving arms
This state of relaxation can rid us of
anxiety & stress & we can rely on
God's profound healing grace gradually transforming us into a life of grace.
You never know, unless God reveals it,
how much healing can happen!

As we pray, we are warmed with His love!

It is resting rather than striving.

It's the Holy Spirit's power that
produces miracles!
It involves appreciation as we thank
God for expected healing.
Through Meditative Prayer, blocks that we
unintentionally create are removed by the
Holy Spirit's power.
---
LENTEN SERVICES 2020
Join us in Lent
To Rekindle your Faith in a
Welcoming Church Environment!

Stations of the Cross & Evening Prayer
Followed by Souper Supper & Lenten Program
Wednesdays During Lent
(March 4, 11, 25 & April 1, 8)

During Lent at 5 p. m.
LENTEN PROGRAM:
EXPERIENCING GOD
"He gives me new Strength. He leads me on paths
that are right for the good of His name"
Psalm 23:3
March 4: God's Work; It's Not About You
March 11: God's Invitation; It's Very Personal
March 25: God Speaks; With Clarity & Purpose
April 1: God Initiates; You Get Involved
April 8: Making Room to Experience God
PRESENTERS:
Rev. Fa. Walcott Hunter &
Rev. Dn. Mercedes Marshall
---
Holy Week
Palm Sunday – April 14
8:00 a.m.
Holy Eucharist & Distribution of Palms
10:00 a.m.
Courtyard Blessing of the Palms
Procession into the Church
and Holy Eucharist
Maundy Thursday – April 18
11:00 a.m.
Benediction of the Blessed Sacrament
7:00 p.m.
The liturgy of Maundy Thursday
The Washing of Feet
Stripping of the Altar and
Vigil over the Blessed Sacrament
Good Friday – April 19
12:00 Noon
The Liturgy of Good Friday
Mass of the Pre-Sanctified Gifts
Easter Vigil – Saturday April 20
7:00 p.m.
Solemn High Mass
First Mass of Easter
Sunday April 21– Easter Day
8:00 a. m.
Easter Day Mass and Holy Eucharist
10 a.m.
Easter Day Mass
Followed by
Easter Egg Hunt for the Community