The Episcopal Church Welcomes All
St Stephens Episcopal Church
AS OUTLINED BELOW
ARE NOW LIVE!
CDC GUIDELINES
FOR MASKS &
FOLLOWING REGULAR SCHEDULE BELOW
DUE TO CORONA VIRUS
(COVID - 19),
WE WILL CONTINUE TO FOLLOW THE SAFETY
CENTER FOR DISEASE CONTROL (CDC)
AS ALWAYS, THANK YOU FOR YOUR GENEROSITY
DURING THESE DIFFICULT TIMES
FOR YOUR CONVENIENCE USE OUR SECURE DONATE BUTTON TO YOUR LEFT ON THIS PAGE
Ststephensepiscopalchurchnewportrichey
(
Make sure that "stephens" does not have an apostrophe
Click image of
Fa. Hunter at the altar
The Tenth Sunday after Pentecost
Year A
Grant to us, Lord, we beseech thee, the spirit to think and do always such things as are right, that we, who cannot exist without thee, may by thee be enabled to live according to thy will; through Jesus Christ our Lord, who liveth and reigneth with thee and the Holy Spirit, one God, for ever and ever. Amen.
Or
Grant to us, Lord, we pray, the spirit to think and do always those things that are right, that we, who cannot exist without you, may by you be enabled to live according to your will; through Jesus Christ our Lord, who lives and reigns with you and the Holy Spirit, one God, for ever and ever. Amen.
A Reading from Genesis (37:1-4,12-28)
Jacob dwelt in the land of his father's sojournings, in the land of Canaan. This is the history of the family of Jacob. Joseph, being seventeen years old, was shepherding the flock with his brothers; he was a lad with the sons of Bilhah and Zilpah, his father's wives; and Joseph brought an ill report of them to their father. Now Israel loved Joseph more than any other of his children, because he was the son of his old age; and he made him a long robe with sleeves. But when his brothers saw that their father loved him more than all his brothers, they hated him, and could not speak peaceably to him. Now his brothers went to pasture their father's flock near Shechem. And Israel said to Joseph, "Are not your brothers pasturing the flock at Shechem? Come, I will send you to them." And he said to him, "Here I am." So he said to him, "Go now, see if it is well with your brothers, and with the flock; and bring me word again." So he sent him from the valley of Hebron, and he came to Shechem. And a man found him wandering in the fields; and the man asked him, "What are you seeking?" "I am seeking my brothers," he said, "tell me, I pray you, where they are pasturing the flock." And the man said, "They have gone away, for I heard them say, `Let us go to Dothan.'" So Joseph went after his brothers, and found them at Dothan. They saw him afar off, and before he came near to them they conspired against him to kill him. They said to one another, "Here comes this dreamer. Come now, let us kill him and throw him into one of the pits; then we shall say that a wild beast has devoured him, and we shall see what will become of his dreams." But when Reuben heard it, he delivered him out of their hands, saying, "Let us not take his life." And Reuben said to them, "Shed no blood; cast him into this pit here in the wilderness, but lay no hand upon him" -- that he might rescue him out of their hand, to restore him to his father. So when Joseph came to his brothers, they stripped him of his robe, the long robe with sleeves that he wore; and they took him and cast him into a pit. The pit was empty, there was no water in it. Then they sat down to eat; and looking up they saw a caravan of Ish'maelites coming from Gilead, with their camels bearing gum, balm, and myrrh, on their way to carry it down to Egypt. Then Judah said to his brothers, "What profit is it if we slay our brother and conceal his blood? Come, let us sell him to the Ish'maelites, and let not our hand be upon him, for he is our brother, our own flesh." And his brothers heeded him. Then Mid'ianite traders passed by; and they drew Joseph up and lifted him out of the pit, and sold him to the Ish'maelites for twenty shekels of silver; and they took Joseph to Egypt.
Psalm 105, 1-6, 16-22, 45b
Confitemini Domino
1 Give thanks to the Lord and call upon his Name; *
make known his deeds among the peoples.
2 Sing to him, sing praises to him, *
and speak of all his marvelous works.
3 Glory in his holy Name; *
let the hearts of those who seek the Lord rejoice.
4 Search for the Lord and his strength; *
continually seek his face.
5 Remember the marvels he has done, *
his wonders and the judgments of his mouth,
6 Offspring of Abraham his servant, *
O children of Jacob his chosen.
16 Then he called for a famine in the land *
and destroyed the supply of bread.
17 He sent a man before them, *
Joseph, who was sold as a slave.
18 They bruised his feet in fetters; *
his neck they put in an iron collar.
19 Until his prediction came to pass, *
the word of the Lord tested him.
20 The king sent and released him; *
the ruler of the peoples set him free.
21 He set him as a master over his household,
as a ruler over all his possessions,
22 To instruct his princes according to his will
and to teach his elders wisdom.
45 Hallelujah!
A Reading from Paul's Letter to the Romans (10:5-15)
Moses writes that the man who practices the righteousness which is based on the law shall live by it. But the righteousness based on faith says, Do not say in your heart, "Who will ascend into heaven?" (that is, to bring Christ down) or "Who will descend into the abyss?" (that is, to bring Christ up from the dead). But what does it say? The word is near you, on your lips and in your heart (that is, the word of faith which we preach); because, if you confess with your lips that Jesus is Lord and believe in your heart that God raised him from the dead, you will be saved. For man believes with his heart and so is justified, and he confesses with his lips and so is saved. The scripture says, "No one who believes in him will be put to shame." For there is no distinction between Jew and Greek; the same Lord is Lord of all and bestows his riches upon all who call upon him. For, "everyone who calls upon the name of the Lord will be saved." But how are men to call upon him in whom they have not believed? And how are they to believe in him of whom they have never heard? And how are they to hear without a preacher? And how can men preach unless they are sent? As it is written, "How beautiful are the feet of those who preach good news!"
The Holy Gospel of Our Lord Jesus Christ
According to Matthew (14:22-33)
Then he made the disciples get into the boat and go before him to the other side, while he dismissed the crowds. And after he had dismissed the crowds, he went up on the mountain by himself to pray. When evening came, he was there alone, but the boat by this time was many furlongs distant from the land, beaten by the waves; for the wind was against them. And in the fourth watch of the night he came to them, walking on the sea. But when the disciples saw him walking on the sea, they were terrified, saying, "It is a ghost!" And they cried out for fear. But immediately he spoke to them, saying, "Take heart, it is I; have no fear." And Peter answered him, "Lord, if it is you, bid me come to you on the water." He said, "Come." So Peter got out of the boat and walked on the water and came to Jesus; but when he saw the wind, he was afraid, and beginning to sink he cried out, "Lord, save me." Jesus immediately reached out his hand and caught him, saying to him, "O man of little faith, why did you doubt?" And when they got into the boat, the wind ceased. And those in the boat worshiped him, saying, "Truly you are the Son of God."
Powerful & Active Christian Healing Prayer Ministry
Come See & Experience the Power of Healing Prayer
Talk with those who have experienced Healing
Join us Sundays & Thursdays at 10 a.m.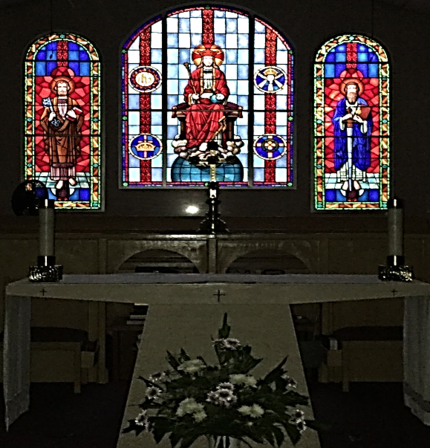 The Reverend Walcott W. Hunter, Rector
The Rev. Mercedes Marshall, Deacon
5326 Charles Street
New Port Richey, Florida 34652
ststephensnpr@gmail.com
Mission Statement
We are to incarnate the presence and work of
Jesus Christ in this place and in our community
OTHER SERVICE TIMES
9 -9:30 a.m. Tuesday - Friday
Holy Eucharist & Healing Service
10 a.m. Thursdays
Bible Study: Thursdays at 11:15 a.m.
Open to Everyone
Benediction of the Blessed Sacrament
First Friday of each month at 11 a.m.

Requiem Mass for Departed Loved Ones
11:00 a.m. last Friday of every month
____________________________________
Last Sunday of the month
following the 10 a.m. Service
Healing Meditative Prayer
WHAT IS HEALING
MEDITATIVE PRAYER?
While in silent prayer we come into Jesus' presence, we experience Jesus' compassion & healing.
It's resting in the healing rays of almighty God (Hab. 3:4) Healing happens when we pray
In silent meditative prayer, our prayers go deeper & reach the areas that need spiritual, emotional & physical healing. It can gradually
(at times, instantly based on God's will) heal
sickness & bring health.
It's relaxing in the Lord's Loving arms
This state of relaxation can rid us of
anxiety & stress & we can rely on
God's profound healing grace gradually transforming us into a life of grace.
You never know, unless God reveals it,
how much healing can happen!

As we pray, we are warmed with His love!

It is resting rather than striving.

It's the Holy Spirit's power that
produces miracles!
It involves appreciation as we thank
God for expected healing.
Through Meditative Prayer, blocks that we
unintentionally create are removed by the
Holy Spirit's power.
---
LENTEN SERVICES 2020
Join us in Lent
To Rekindle your Faith in a
Welcoming Church Environment!

Stations of the Cross & Evening Prayer
Followed by Souper Supper & Lenten Program
Wednesdays During Lent
(March 4, 11, 25 & April 1, 8)

During Lent at 5 p. m.
LENTEN PROGRAM:
EXPERIENCING GOD
"He gives me new Strength. He leads me on paths
that are right for the good of His name"
Psalm 23:3
March 4: God's Work; It's Not About You
March 11: God's Invitation; It's Very Personal
March 25: God Speaks; With Clarity & Purpose
April 1: God Initiates; You Get Involved
April 8: Making Room to Experience God
PRESENTERS:
Rev. Fa. Walcott Hunter &
Rev. Dn. Mercedes Marshall
---
Holy Week
Palm Sunday – April 14
8:00 a.m.
Holy Eucharist & Distribution of Palms
10:00 a.m.
Courtyard Blessing of the Palms
Procession into the Church
and Holy Eucharist
Maundy Thursday – April 18
11:00 a.m.
Benediction of the Blessed Sacrament
7:00 p.m.
The liturgy of Maundy Thursday
The Washing of Feet
Stripping of the Altar and
Vigil over the Blessed Sacrament
Good Friday – April 19
12:00 Noon
The Liturgy of Good Friday
Mass of the Pre-Sanctified Gifts
Easter Vigil – Saturday April 20
7:00 p.m.
Solemn High Mass
First Mass of Easter
Sunday April 21– Easter Day
8:00 a. m.
Easter Day Mass and Holy Eucharist
10 a.m.
Easter Day Mass
Followed by
Easter Egg Hunt for the Community