Mission Statement:
We are to incarnate the presence and work of Jesus Christ in this place and
in our community.
**(Anyone is welcome to receive the Eucharist if they have been baptized.
We are baptized in the Lord, our Christ not a denomination)**
St. Stephen's Episcopal Church
Welcomes All!!!
Mass Services, Fellowship, Thrift Store,
***
We are
renovating
our website please excuse our cyber dust as we work to make St. Stephens the best it can be!***
Reverend Walcott W. Hunter (Rector)
Reverend Mercedes Marshall (Deacon)
8 a.m. (Holy Eucharist Rite 1) &
10 a.m. (
Holy Eucharist Rite 2)
Morning Prayer: Tuesday-Friday 9-9:30 a.m.
Holy Eucharist & Healing Mass: Weekly
Benediction of the Blessed Sacrament: Monthly
The Requiem Mass for the departed: Monthly
Episcopal Church Business
Dayspring Summer Camp 2022 Information is out!
Pick up a brochure in church lobby or visit website: www.episcopalswfl.org
On Saturday, April 2nd at Cathedral Church of St. Peter
St. Petersburg, FL
The Very Rev. Dr. Douglas F. Scharf, Rector, Good Shepherd Episcopal Church & School - Tequesta, FL was elected to succeed our current bishop The Rt. Rev. Dr. Dabney T. Smith.
Great News: The Bishop has removed all COVID restrictions!

St. Stephen's
Happenings & News
****The Cup has been restored at Eucharist****
Fun Night Planned - Please join us for games, food and fellowship
Monday, May 30th 5pm
$1 is asked for tableware and/or a dish to pass
"You don't stop having fun when you get old, you get old when you stop having fun!"
Invite yourself and others
CALLING ALL PARISHIONERS TO ACTION
St. Stephen's invites parishioners to participate in the mass.
Positions include: Acolyte, Altar Guild, Choir, Lector
Church Groups:
ECW (Episcopal Church Woman's Club) - 1st Sundays of the month after 10 a.m. mass
Men's Breakfast Club - 1st Saturdays of the month at 8:30 a.m.
meet in the Hall.
TAKE HOME DINNERS - $8 per person - MONTHLY
TICKETS:
Tickets are available for purchase at the St. Stephen's Thrift Store and also between mass, until Wednesday prior to the event or by calling Ruth at (727) 846-0464.
Thrift Shop hours Monday-Saturday 10 a.m. - 2 p.m.
**********************************************************************************************************************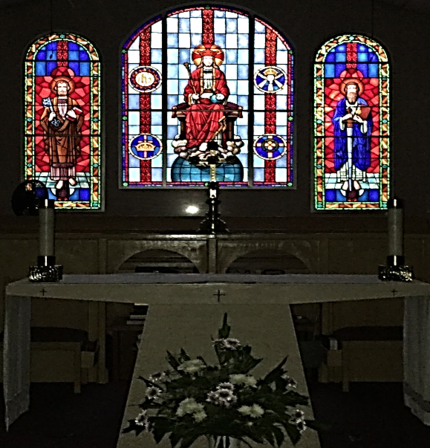 5326 Charles Street
New Port Richey, Florida 34652
ststephensnpr@gmail.com