We are to incarnate the presence and work of Jesus Christ in this place and
**(Anyone is welcome to receive the Eucharist if they have been baptized.
We are baptized in the Lord, our Christ not a denomination) **
St. Stephen's Episcopal Church
St. Stephens Welcomes Rt. Rev Douglas Sharf
January 29th, 2023
Bishop Sharf will be administering Confirmation and Reception at the 10am mass.
Annual Meeting February 5 at a special
9 a.m. Mass, potluck follows in Telman Hall (there will be no 8 and 10 a.m. Mass)
Come Join Us for Mass, Fellowship, Thrift Shop,
16 ounces soup with bread $7
Tickets on sale at the St. Stephens thrift shop and after mass on Sunday until February 1st. Pickup February 5th 1:30 pm-3:30 pm
Bible Study Group will meet Thursdays

at 11:15 a.m.

after Healing Mass in Telman Hall.
Reverend Walcott W. Hunter (Rector)
Reverend Mercedes Marshall (Deacon)
8 a.m. (Holy Eucharist Rite 1)
10 a.m. (
Holy Eucharist Rite 2)
Morning Prayer: Tuesday-Friday 9-9:30 a.m.,
Lady Chapel
Holy Eucharist & Healing Mass:
Thursday 10 a.m.
Benediction of the Blessed Sacrament: F
irst Friday 11 a.m.
The Requiem Mass for the departed:
Last Friday 11 a.m.
Episcopal Church Business
The Very Rev. Dr. Scharf was ordained and consecrated as Bishop in The Episcopal Church, September 24, 2022, Van Wezel Performing Arts Hall, 777 N Tamiami Trail, Sarasota FL 34236

Best wishes and farewells
Bishop The Rt. Rev. Dr. Dabney T. Smith.
St. Stephen's
Happenings & News
****The Cup has been restored at Eucharist****
St. Stephen's invites parishioners to participate in the Mass
Positions include Acolyte, Alter Guild, Choir, Lector
2022-2023 School Supplies Drive
Back to School kicked off the month of July
Supplies were delivered to James Marlowe and Mytte P. Lock Elementary Schools.
Church Groups:
ECW (Episcopal Church Woman's Club) - 1st Sunday of the month after 10 a.m. Mass. Meet in Telman Hall.
Bible Study Group- Thursdays at 11:15 a.m. after Healing Mass. Meet in Telman Hall.
Fun Club - 4th Wednesday of the month - 5:00 p.m. in Telman Hall.
**********************************************************************************************************************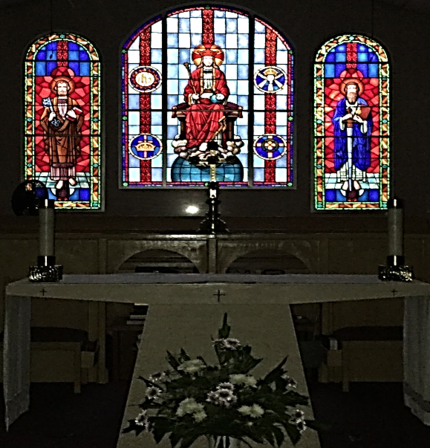 5326 Charles Street
New Port Richey, Florida 34652
ststephensnpr@gmail.com
Follow us on Facebook