The Episcopal Church Welcomes All
https://www.facebook.com/StStephensEpiscopalChurchNewPortRichey/
READINGS
ASH WEDNESDAY
FEBRUARY 17, 2017
Almighty and everlasting God, you hate nothing you have made and forgive the sins of all who are penitent: Create and make in us new and contrite hearts, that we, worthily lamenting our sins and acknowledging our wretchedness, may obtain of you, the God of all mercy, perfect remission and forgiveness; through Jesus Christ our Lord, who lives and reigns with you and the Holy Spirit, one God, for ever and ever. Amen.
A Reading from the Book of Joel (2:1-2,12-17)
Blow the trumpet in Zion; sound the alarm on my holy mountain! Let all the inhabitants of the land tremble, for the day of the LORD is coming, it is near, a day of darkness and gloom, a day of clouds and thick darkness! Like blackness there is spread upon the mountains a great and powerful people; their like has never been from of old, nor will be again after them through the years of all generations. "Yet even now," says the LORD, "return to me with all your heart, with fasting, with weeping, and with mourning; and rend your hearts and not your garments." Return to the LORD, your God, for he is gracious and merciful, slow to anger, and abounding in steadfast love, and repents of evil. Who knows whether he will not turn and repent, and leave a blessing behind him, a cereal offering and a drink offering for the LORD, your God? Blow the trumpet in Zion; sanctify a fast; call a solemn assembly; gather the people. Sanctify the congregation; assemble the elders; gather the children, even nursing infants. Let the bridegroom leave his room, and the bride her chamber. Between the vestibule and the altar let the priests, the ministers of the LORD, weep and say, "Spare thy people, O LORD, and make not thy heritage a reproach, a byword among the nations. Why should they say among the peoples, `Where is their God?'"
Psalm 103 or 103:8-14
Benedic, anima mea
1 Bless the Lord, O my soul, *
and all that is within me, bless his holy Name.
2 Bless the Lord, O my soul, *
and forget not all his benefits.
3 He forgives all your sins *
and heals all your infirmities;
4 He redeems your life from the grave *
and crowns you with mercy and loving-kindness;
5 He satisfies you with good things, *
and your youth is renewed like an eagle's.
6 The Lord executes righteousness *
and judgment for all who are oppressed.
7 He made his ways known to Moses *
and his works to the children of Israel.]
8 The Lord is full of compassion and mercy, *
slow to anger and of great kindness.
9 He will not always accuse us, *
nor will he keep his anger for ever.
10 He has not dealt with us according to our sins, *
nor rewarded us according to our wickedness.
11 For as the heavens are high above the earth, *
so is his mercy great upon those who fear him.
12 As far as the east is from the west, *
so far has he removed our sins from us.
13 As a father cares for his children, *
so does the Lord care for those who fear him.
14 For he himself knows whereof we are made; *
he remembers that we are but dust.
[15 Our days are like the grass; *
we flourish like a flower of the field;
16 When the wind goes over it, it is gone, *
and its place shall know it no more.
17 But the merciful goodness of the Lord endures for ever on those who fear him, *
and his righteousness on children's children;
18 On those who keep his covenant *
and remember his commandments and do them.
19 The Lord has set his throne in heaven, *
and his kingship has dominion over all.
20 Bless the Lord, you angels of his,
you mighty ones who do his bidding, *
and hearken to the voice of his word.
21 Bless the Lord, all you his hosts, *
you ministers of his who do his will.
22 Bless the Lord, all you works of his,
in all places of his dominion; *
bless the Lord, O my soul.]
A Reading from The Second Letter of Paul to the Corinthians (5:20b-6:10)
We beseech you on behalf of Christ, be reconciled to God. For our sake he made him to be sin who knew no sin, so that in him we might become the righteousness of God. Working together with him, then, we entreat you not to accept the grace of God in vain. For he says, "At the acceptable time I have listened to you, and helped you on the day of salvation." Behold, now is the acceptable time; behold, now is the day of salvation. We put no obstacle in any one's way, so that no fault may be found with our ministry, but as servants of God we commend ourselves in every way: through great endurance, in afflictions, hardships, calamities, beatings, imprisonments, tumults, labors, watching, hunger; by purity, knowledge, forbearance, kindness, the Holy Spirit, genuine love, truthful speech, and the power of God; with the weapons of righteousness for the right hand and for the left; in honor and dishonor, in ill repute and good repute. We are treated as impostors, and yet are true; as unknown, and yet well known; as dying, and behold we live; as punished, and yet not killed; as sorrowful, yet always rejoicing; as poor, yet making many rich; as having nothing, and yet possessing everything.
The Holy Gospel of our Lord Jesus Christ according to Matthew (6:1-6,16-21)
"Beware of practicing your piety before men in order to be seen by them; for then you will have no reward from your Father who is in heaven. "Thus, when you give alms, sound no trumpet before you, as the hypocrites do in the synagogues and in the streets, that they may be praised by men. Truly, I say to you, they have received their reward. But when you give alms, do not let your left hand know what your right hand is doing, so that your alms may be in secret; and your Father who sees in secret will reward you. "And when you pray, you must not be like the hypocrites; for they love to stand and pray in the synagogues and at the street corners, that they may be seen by men. Truly, I say to you, they have received their reward. But when you pray, go into your room and shut the door and pray to your Father who is in secret; and your Father who sees in secret will reward you. "And when you fast, do not look dismal, like the hypocrites, for they disfigure their faces that their fasting may be seen by men. Truly, I say to you, they have received their reward. But when you fast, anoint your head and wash your face, that your fasting may not be seen by men but by your Father who is in secret; and your Father who sees in secret will reward you. "Do not lay up for yourselves treasures on earth, where moth and rust consume and where thieves break in and steal, but lay up for yourselves treasures in heaven, where neither moth nor rust consumes and where thieves do not break in and steal. For where your treasure is, there will your heart be also.
DON'T MISS UPCOMING EVENT!!
(MASTER CARD & VISA ACCEPTED)
YOU CAN PICK UP DINNER AT THE
DRIVE THRU
AFTER SUNDAY 10 a.m. SERVICE
**********************************************************************************************************************
Powerful & Active Christian Healing Prayer Ministry
Come See & Experience the Power of Healing Prayer
Talk with those who have experienced Healing
Join us Sundays & Thursdays at 10 a.m.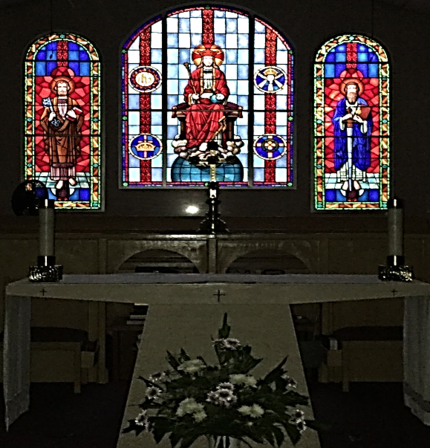 The Reverend Walcott W. Hunter, Rector
The Rev. Mercedes Marshall, Deacon
5326 Charles Street
New Port Richey, Florida 34652
ststephensnpr@gmail.com
Mission Statement
We are to incarnate the presence and work of
Jesus Christ in this place and in our community
OTHER SERVICE TIMES
9 -9:30 a.m. Tuesday - Friday
Holy Eucharist & Healing Service
10 a.m. Thursdays
Bible Study: Thursdays at 11:15 a.m.
Open to Everyone
Benediction of the Blessed Sacrament
First Friday of each month at 11 a.m.

Requiem Mass for Departed Loved Ones
11:00 a.m. last Friday of every month
____________________________________
Last Sunday of the month
following the 10 a.m. Service
Healing Meditative Prayer
WHAT IS HEALING
MEDITATIVE PRAYER?
While in silent prayer we come into Jesus' presence, we experience Jesus' compassion & healing.
It's resting in the healing rays of almighty God (Hab. 3:4) Healing happens when we pray
In silent meditative prayer, our prayers go deeper & reach the areas that need spiritual, emotional & physical healing. It can gradually
(at times, instantly based on God's will) heal
sickness & bring health.
It's relaxing in the Lord's Loving arms
This state of relaxation can rid us of
anxiety & stress & we can rely on
God's profound healing grace gradually transforming us into a life of grace.
You never know, unless God reveals it,
how much healing can happen!

As we pray, we are warmed with His love!

It is resting rather than striving.

It's the Holy Spirit's power that
produces miracles!
It involves appreciation as we thank
God for expected healing.
Through Meditative Prayer, blocks that we
unintentionally create are removed by the
Holy Spirit's power.
---
LENTEN SERVICES 2020
Join us in Lent
To Rekindle your Faith in a
Welcoming Church Environment!

Stations of the Cross & Evening Prayer
Followed by Souper Supper & Lenten Program
Wednesdays During Lent
(March 4, 11, 25 & April 1, 8)

During Lent at 5 p. m.
LENTEN PROGRAM:
EXPERIENCING GOD
"He gives me new Strength. He leads me on paths
that are right for the good of His name"
Psalm 23:3
March 4: God's Work; It's Not About You
March 11: God's Invitation; It's Very Personal
March 25: God Speaks; With Clarity & Purpose
April 1: God Initiates; You Get Involved
April 8: Making Room to Experience God
PRESENTERS:
Rev. Fa. Walcott Hunter &
Rev. Dn. Mercedes Marshall
---
Holy Week
Palm Sunday – April 14
8:00 a.m.
Holy Eucharist & Distribution of Palms
10:00 a.m.
Courtyard Blessing of the Palms
Procession into the Church
and Holy Eucharist
Maundy Thursday – April 18
11:00 a.m.
Benediction of the Blessed Sacrament
7:00 p.m.
The liturgy of Maundy Thursday
The Washing of Feet
Stripping of the Altar and
Vigil over the Blessed Sacrament
Good Friday – April 19
12:00 Noon
The Liturgy of Good Friday
Mass of the Pre-Sanctified Gifts
Easter Vigil – Saturday April 20
7:00 p.m.
Solemn High Mass
First Mass of Easter
Sunday April 21– Easter Day
8:00 a. m.
Easter Day Mass and Holy Eucharist
10 a.m.
Easter Day Mass
Followed by
Easter Egg Hunt for the Community